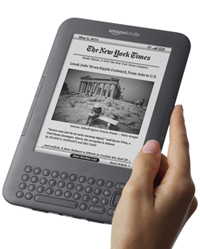 Last week, we received over 325 reviews in our 3rd Annual Homeschool Curriculum Review contest, bringing our total collection to over 1,200 homeschool curriculum reviews!
Heather won a Kindle 3G and $50 gift card to Amazon for submitting the largest number of reviews.
When I contacted Heather about her prize, she said, "WOW! I'm SO excited!  I'm jumping right now…. This is TRULY an answer to prayer!"
2011 Homeschol Curriculum Review Contest Winners:
Carle won a $100 prize package from The Old Schoolhouse.
Amber, Sarah and Kelly won tickets to The Ultimate Homeschool Expo.
Janienne, Vicki, Laurie, Amanda, and Christina won notebooking resources from Home School in the Woods.
Sue won a 1-year membership to In the Hands of a Child.
Jacquie, Carmen, Gina and Cheryl won 1-year subscriptions to Family Time Fitness.
Kim won the complete Etiquette Factory program.
Debbie won French Essentials foreign language curriculum.
Sasha and Stephannie won $50 gift certificates to CurrClick.
Cindy won a $25 gift certificate to Amazon.
Thank You!
Thank you all so much for participating in our contest, and helping us spread the word to others!  I was truly amazed by the both the quantity and quality of reviews we received.  Follow this link to view our complete collection of homeschool curriculum reviews.